NEWS ARCHIVE



August 12, 2003 - Artwork of Sharon by Tammy






August 9, 2003 - Sharon was taken from us, 34 years ago today.




August 6, 2003 -
August 4, 2003 - The winners of the The Sharon Tate Look- Alike Summer Contest are:

1st Place
$100.00

2nd Place
$50.00

3rd Place
$25.00

Sharina
Uruguay

Tammy
USA

Ann Marie
USA
A total of 421 votes were cast. Sharina won with 173 votes, followed by Tammy with 80 votes and Anne Marie with 57 votes. Congratulations to our winners and our "Thanks" to the other contestants for participating.




July 31, 2003
Two new items on the Dedications page:

July 28, 2003
The Sharon Tate Look Alike Summer Contest has started. Voting last for seven days, the poll closes automatically at the end of the day on August 3, 2003. Winners will be announced shortly thereafter. Good Luck to the contestants!



July 25, 2003


July 12, 2003
We have 9 contestants. We need one more to start the contest!



July 2, 2003
Here's a sneak peek at our first six contestants.
This is an international contest anyone can enter. These gals hail from the US, Canada, Australia and New Zealand. We'll start the voting when we receive ten submissions. Send photos to: webmistress@sharontate.com




June 19, 2003

I have some good news and some bad news. First the bad news.
Sharon was passed over again for a Star on the Hollywood Walk of Fame. We will try again next year. :::sigh::::
See the Announcement on the HWOF website of who did receive a Star this year.


The good news is that it's time for some summer fun!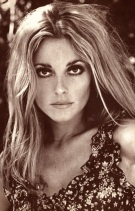 SHARON TATE LOOK ALIKE CONTEST!
Do you look like Sharon Tate? Do you have a friend that looks like Sharon Tate?
Send us your photo, we'll let the fans vote!
The winner gets to spend $100.00 at the Shop Sharon Store.
Second Place gets $50.00 at Shop Sharon
Third Place gets to spend $25.00 at Shop Sharon.
The pictures will be posted for voting when we have at least 10.
Get out your eyeliner and send photos to: webmistress@sharontate.com

Another High School friend shares her memories of Sharon. Thanks, Lyndy!




View Older News here.