Sharon Tate Biography

Valley of the Dolls


Embarrassed or not Sharon would again be cast in a role that emphasized her beauty. Valley of the Dolls, the novel by Jacqueline Susann that broke all sales records and ended up in the Guinness Book of World Records as the fastest selling novel of all time, was being made into a major motion picture. Almost immediately there was speculation about who would be cast in the leads. Candice Bergen, Raquel Welch, Ann Margaret and Bette Davis were all considered for parts in the movie. By the time filming got underway Patty Duke, Barbara Parkins, Judy Garland and Sharon were cast in the four main female roles. Sharon was to play Jennifer North, a role that many felt was based in part on both Carole Landis and Marilyn Monroe.

Sharon would tell Roman that she didn't think much of either the book or the movie. She felt they were trashy, and that yet again she was not doing anything artistically worthwhile. However, Sharon was a trooper and went into filming ready to give it her all in the hopes that she might get noticed in the highly visible vehicle and earn better roles because of it. It was not to be an easy shoot though. Judy Garland was promptly let go when she was unable to make it to the set on time and was replaced by Susan Hayward. Patty Duke would remember the director, Mark Robson, as a tyrant who particularly enjoyed humiliating Sharon. Roman Polanski would say later that Robson told him, "That's a great girl you have there. Few actresses have her kind of vulnerability. She's got a great future."

The set of Valley of the Dolls was not a happy one. Patty Duke and Barbara Parkins were said to be jockeying for position, both feeling that this was an important film for them and could set the tone for the rest of their careers. According to costar Robert Viharo, Sharon alone was above the bickering. He described her as "the sweetest, purest, most open spirit." By the time filming was complete all three stars felt that the movie was unsalvageable.

On November 14th 1967 the completed movie was premiered on a docked cruise liner The Italia in Venice, Italy. The international press was on board to see one of the most anticipated films in history. The fears of Duke, Parkins and Tate were confirmed. The movie had unintentionally became a comedy. Afterwards Sharon gamely met with the press while some of her costars tried to avoid them. In later years Valley of the Dolls would come to be considered a camp classic. It has been remade for television, and stage. There are conventions and fan clubs. In that way it is the film that Sharon will probably most be identified with. If the current feelings of her costars, Patty Duke and Barbara Parkins are any indication Sharon herself would probably have come to view Valley of the Dolls with bemused affection.

As Sharon was filming Valley of the Dolls Roman was busy making Rosemary's Baby. Roman had initially wanted Sharon for the main role of Rosemary but felt it would have been presumptuous to put her forward himself. The role eventually went to Mia Farrow. Sharon visited Roman often on the set in New York, and became fast friends with Mia. Roman and Sharon accompanied Mia and Frank Sinatra to dinner on several occasions and it was on the set of Rosemary's Baby that Frank Sinatra served Mia with divorce papers. Mia would remember that Sharon and Roman took her in and made her part of their group of friends. Of Sharon, Mia would say "She was like a princess in a fairy tale. As kind as she was beautiful."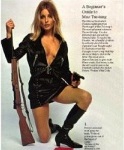 On one weekend while visiting Roman in New York, Sharon posed for photographs to appear in the December, 1967 issue of Esquire. Sharon and Esquire had a long running relationship and she had appeared in the magazine several times. The producers of Valley of the Dolls felt that this layout would be important for promoting the film Sharon posed in a black miniskirt with a rifle on the first page of the layout. It was a very provocative and cutting edge session and generated a great deal of publicity.

As 1967 ended the first four movies Sharon made, Eye of the Devil, The Fearless Vampire Killers, Don't Make Waves and Valley of the Dolls had all been released. 1967 was proclaimed by Playboy as the year Sharon Tate happens.

Going to the Chapel

The buildup Ransohoff had been working toward was realized. When all was said and done only Valley of the Dolls was a commercial success, but Sharon had garnered favorable reviews for Don't Make Waves and Valley of the Dolls.

The Hollywood Reporter said of Sharon in Valley of the Dolls, "William Daniels' photographic caress of her faultless face and enormous absorbent eyes is stunning". In reality Sharon had made a favorable impression on critics and the movie going public but she had not had a breakthrough role that catapulted her into super stardom.

Roman and Sharon returned to their home in London and were seen out often with friends such as Peter Sellers, Warren Beatty, and Mia Farrow. They were proclaimed by the movie magazines to be the "Groovy couple of the year." Sharon and Roman's place was the place to be. They managed to mix both old and new Hollywood in a way that worked. They were candid with the press. They were interesting and interested. No other couple better represented chic Hollywood culture at that time than Sharon and Roman.

It was in London in January of 1968 that Roman proposed to Sharon.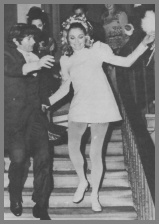 Roman had been hurt in his first marriage and had shied away from commitment until he met Sharon. He described her as an "angel", the "perfect woman". Sharon said yes and they set about planning an impromptu wedding in London. Sharon's costar in Valley of the Dolls, Barbara Parkins, would be her maid of honor. It was a mod wedding and Sharon and Roman were dressed in the height of fashion for the time, which was called "rich hippie". Press from London and around the world covered the wedding, It was considered big news that such a nontraditional couple as Roman and Sharon would do such a traditional thing as marry.

Starting Over

Though Sharon was now married to one of the most acclaimed directors of the era she did not take advantage of her position. When asked if she would like to do another movie for Roman, Sharon answered "I'd be thrilled to death to do another Polanski film. But he has to ask me first. I wouldn't ever dream of asking him for a part."

Sharon was determined to make it on her own and to that end she went to Martin Ransohoff and asked that he let her out of her exclusive contract. He agreed with the proviso that she turn over twenty five percent of her earnings for the next four years. Sharon agreed to those terms feeling it was the only way that she could begin to look for roles for herself that would best showcase her abilities.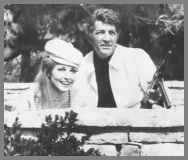 Her first choice of films was an action/comedy The Wrecking Crew with Dean Martin. It was the fourth in a series of Matt Helm special agent pictures. Sharon would play Freya Carlson, Martin's bumbling alley, posing as his Danish tour guide. The movie would also star Elke Sommer, Tina Louise and Nancy Kwan. The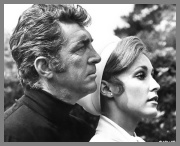 role gave Sharon a chance to shine for the first time in a fully comedic role. The Hollywood Reporter took notice saying, "Sharon Tate reveals a pleasant affinity to scatterbrain comedy and comes as close to walking away with this picture as she did in a radically different role in Valley of the Dolls."

Again, Sharon would impress the directors of her film by doing her own stunts. Columbia had hired Bruce Lee to assist Sharon in martial arts for scenes in the movie. Bruce and Sharon became friends and Sharon brought Bruce to the home she and Roman were renting from Patty Duke, to teach Roman as well. It was not unusual for Sharon to make friends with almost everyone on the sets of her movies. It was a habit she would repeat over and over again. Dean Martin was very pleased with Sharon's performance in the film and decided he would do another in the series with Sharon costarring.

Sharon had become very interested in the Presidential campaign of Robert Kennedy. She went to fund raising dinners in support of Kennedy and on June 3rd 1968 attended a dinner at the home of John Frankenheimer. At the dinner was Robert Kennedy and his wife Ethel. Sharon was thrilled to be able to spend some time with Kennedy and felt even more convinced that he would make a wonderful president. However, the next day Kennedy was assassinated. Sharon was devastated not only over the death of an incredible man but also for the loss to the country. During this time Sharon and Roman also attended fund raisers for the Theater of the Deaf as well as other charities making sure to give back some of what they had been so richly blessed with.


NEXT PAGE